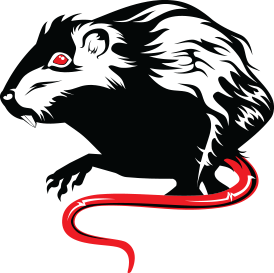 Pests in the house are so common that we often simply live with it. Perhaps you have purchased pest products so many times
from the supermarket that it has become a habit. Maybe you've even tried some natural solutions.
Sometimes these efforts appear to work… for a little while… and then they return.
What problems are you having?
There are a few common reasons these guests have decided to make themselves at home: food, shelter, or both. Here are a few household pests you may encounter, and what they're looking for in your home.
You find them scurrying and scratching around in your kitchen, in walls, and even under floors. They'll chew through many materials, even cables and wiring which can be very dangerous. They may also carry diseases.
Pantry moths
These can be found feasting in cupboards: on cereal, couscous, spices, dried nuts, and other dry food of vegetable origin. It's important to throw out any food sources not in tightly sealed containers. They're tough to get rid of and can crawl on ceilings, and spin cocoons in any room in the house.
Cockroaches can be found in places such as furniture, below sinks, and kitchen cupboards. They eat a wide variety of food, including rotting garbage. Cockroaches may be a cause of allergies, and diseases such as gastroenteritis and salmonella.
You'll find them in the kitchen pantry, crawling out of cracks in walls, and in the bathroom (they love toothpaste and sugar in soaps). Where there's water and warmth, you'll find an ant infestation. Their nests are underground, in ground-level mounds, or in trees. They're led by one or more queens who lay thousands of eggs.
Bees & Wasps
You may find bees and wasps in the space between your brick and wall, in compost bins, garden (wasps) and anywhere they can find food such as fruits, soft drinks, and cakes. They'll stay until they are killed.
Spiders
You'll find traces of black house spiders by their webs in corners all over the house, especially wall corners and doorways. Thick and hairy, these spiders are often mistaken for funnel web spiders. Other spiders you may find in Victorian homes include redback, daddy long legs, and window spiders.
With such a shortage of mature age trees with hollows, possums will make their den in your roof if given any opportunity to get in. Their survival depends on setting up a nest, and they won't stray far. They sleep during the day, and come out at night.
Birds
You may find starlings who've made a cosy nests in your roof – or stubborn pigeons that just don't get the message to Shoo! Their poop is acidic and can eat away at your roof, and damage insulation. Nest straw, twigs and grasses are a potential fire hazard.  They could cause pipe blockages and block airflow in ventilation systems. They can transmit diseases through their ticks, mites, and other parasites.
The danger of household pests
These guests can unfortunately cause much damage – to property, plants, and to your own health as well as the health as your family. It's important to learn about these pests so you don't encourage them back.When you get your home professionally treated, we will:
Get rid of these little critters
Make your home very unappealing so they won't return (for a long time, if at all)
Use quality pest management treatments that will last
Make sure all treatments are safe for kids and pets
Treatment
Treatment depends on what pest you're having problems with. A typical treatment for many of these pests may include:
Spray exit with repellant or non repellant spray
Interior control – spray and bait
Set up dust in roof void to control pests from returning
Add granular pest control products to garden beds
Pest Brigade Household Pests Service
All work 100% guaranteed
Fast and friendly service
Cost effective
High quality pesticides
Treatment is safe for pets and kids
FAQs
Can you do a better price?
Our prices are already very competitive – we encourage you to ask for more details about the type of chemicals and treatment that will be used. We use only quality chemicals that we know will keep pests away as long as possible – and are safe for pets, kids, and the environment.
Cheaper chemicals won't do the same job, and can be dangerous for you and your family.
Do I have to go out? And if so, how long?
Yes, for 4 hours so there's no contact with treated areas until dry.
Are chemical safe for kids and pets?
Phoned on a Saturday evening after trying a number of other pest control companies with no answer. Wasps were gone within an hour of our initial phone call, and I am so grateful!
– Rhi Ashton
Did awesome spider spray last year. Now we have them booked for possum in roof job.
– George Murley
We had a nest of wasps near our swimming pool. Called Pest Brigade a day before New Year's Eve. They turned up within 4 hours and exterminated it. Prompt, excellent service. Much appreciated. Thanks.
Great work today, thanks. Pretty sure we heard the mice/rats trying to eat the baits and making a fair bit of noise about it. It'll be great not to have beasties in the roof!
– Wendy May
Quality products that we use