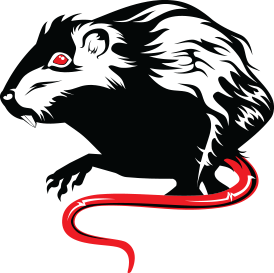 Understanding possums
Sleepers by day, party animals by night
The two most common types of possum around Victoria are: Common Brushtail possum, Ringtail possum.
You may notice them scampering over rooftops, along powerlines and fences, and
through treetops. Staying above ground keeps them away from dogs, foxes, cats, and cars. But up high, they can also be attacked – by crows, birds and other possums.
So it's no wonder there's plenty of competition from other possums, who will attack aggressively to protect their homes. For this reason, they rarely stray far from their 'home range'.
Why you have a possum problem
Possums love warm, confined spaces. And since there aren't many mature trees with hollow branches left in suburban areas of Victoria, they look for alternative hollows: your house roof, garage, shed, and even chimneys.
They'll squeeze under tiles to get in through small holes in the roof. They'll slide down your chimney and make themselves at home:
One of our customers was shocked to discovered one of these uninvited guests munching on an apple  – at the edge of her bed, in the middle of the night!
A possum's favourite meal is eucalyptus leaves. But they'll happily visit your place to feast on flowers, fruits, seeds, veggie gardens, fruit trees, and buds.
What to do if you think you have possums
Create a nest box in a sheltered part of your property
Find the possum's nest and place it in the new area
Deter the possum from your roof: put camphor blocks, quassia chips, or mothballs in the roof space. Turn on a light in the roof
Find the entry point to your roof, and block off access (make sure there aren't any possums in the roof though)
Prune tree branches that may help possums get onto your roof
Pest Brigade Possum Treatment
Locate entry points
Set up one-way doors
Block off other entry points
Fix hole
This is normally resolved over 1-2 visits, however we will make a return visit for further inspection as required.
Pest Brigade Possum Service
Quick and friendly service
Experienced and qualified specialist
Value for money
All work 100% guaranteed
After having another team of people try to get the possums out of my roof unsuccessfully and unprofessionally, it was fantastic to find someone who really knew what they were doing and were able to get the job done. Excellent service, friendly smile and professional. Thank you so much.
– Bronii Gigliuto
Thanks Big Bad Dougie! Amazing service no more possums! A cracker of job – well done.
– Jodi Osborne
Pest brigade was the cheapest quote I got, but you couldn't tell that from the work he did, it was absolutely amazing, I can finally sleep at night without those pesky possums in my roof.
– Jacob Jackson
Excellent & cheerful service and great result … Our possums are gone!
Great price …. compared with what we paid 10+ years ago. We certainly recommend Doug.
– Heather Mayberry Naughton
Contact us to organise a pest inspection and treatment..
Quality products that we use